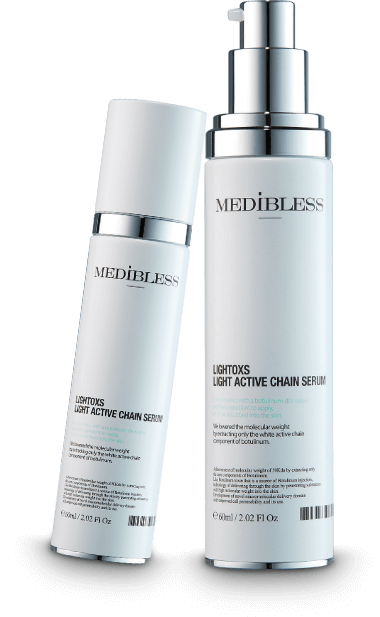 WORLD'S FIRST
Dermocosmetic with a Botulinum – derivative peptides
For the treatment of eye area – face – neck – nasal crease

The Science of Beauty
The Power of Peptides
WORLD'S FIRST
Dermocosmetic with a Botulinum -peptide
Methionyl,r-Clostridium, Βοτουλίνουμ Polypeptide-1, Hexapeptide-40
Better
from toxic injections, cosmetic surgery or collagen injections?
Forget all you know about anti-aging facial treatments. MEDI-LIGHTOXS products are the true revolution in the field of cosmetology.
Tripeptide-29 , Copper Tripeptide-1, Tripeptide-1, Acetylhexapeptide-8, , Palmitoyl Pentapeptide-4, Nonapeptide-7, Tripeptide-35, Palmitoyl Tetrapeptide-7, Palmitoyl Tripeptide-1, Palmitoyl Tripeptide-29, Hexapeptide-12, Hexapeptide-9, Sh-Oligopeptide-1
Revolution
in skin care
Lifting and elasticity:
Gives elasticity to loose skin with
anti-aging effect of 12 composites
of peptides
Because beauty
has not age limit

There is no competitor, Only sure result! MED-LIGHTOXS LIGHT ACTIVE SERUM 4th generation skin transfer technology.
What is MED-LIGHTOXS?
The serum with botulinum-derivative peptide, designed to be absorbed into your skin.
2017
MED-LIGHTOXS released as a serum with World's first botulinum-derivative peptide
2014
Botulinum-deived peptide patent (50KDa)
2005
Pure Toxin FDA approved(150KDa)
1989
Botulinum released FDA approved (900KDa)
MED-LIGHTOXS LIGHT ACTIVE CHAIN ​​SERUM

The world's first and only Botulinum Ingredient – peptide complex.
MED-LIGHTOXS, outstandingly functional in wrinke improvement and bright skin, is developed by using unique complex of high functional ingredients and botulinum-derivative peptide, MED-LIGHTOXS, who is focusing on development of pharmaceutical ingredients, new formulation, and new products
What is botulinum-derivative peptide?
It's a peptide called "MTD," which has a skin-penetrating function. The active protein of botulinum toxin called "Lc" is Recombined skin permeability component
It contains a Botulinum peptide ingredient of¬cially listed in Internationa Cosmetic Ingredient Dictionary.
It applies the patent technology combinig 'Botulinum light chain' which is a Botulinum active ingredient with peptide
4th generation skin penetration technology Increase skin absorption by applying the technology patent.
Target
Those who have dry skin and well-wrinkled skin.
Those who want to improve various wrinkles
Those who are noticeably less elastic as they get older.
Those who want bright skin tone rather than dark and dull skin tone.
Those who want a lifting and pore reduction effect
Those who want to extend the period after injection treatment
Those who want an elastic baby face.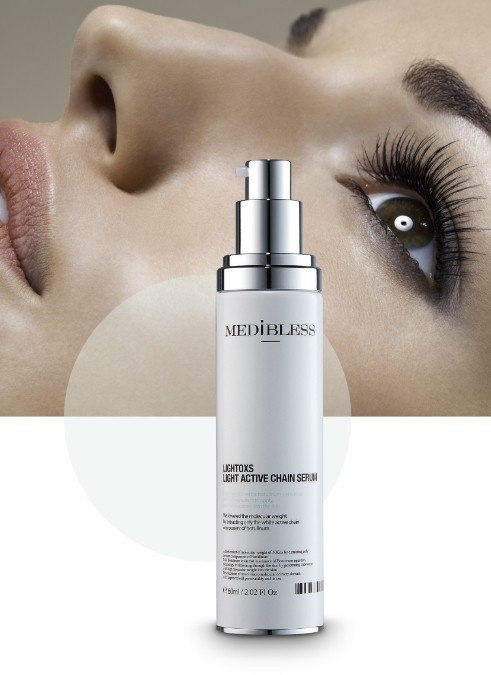 MED-LIGHTOXS ingredient's differentiation
International patent application WO 2015/183044

International application in 8 countries in 2016
Listed in International Cosmetic Ingredient Dictionary

Methionyl r-Clostridium Botulinum Polypeptide-1 Hexapeptide-40
Clinically Proven

Proven to be effective on eye wrinkles, brighter skin, and elasticity (Test done by P&K Clinical Study Trial Center)
MED-LIGHTOXS 4th generation technology of delivering through the skin
https://www.youtube.com/watch?v=yp7sGqROzz8
Like Botulinum toxin that is a source of Botulinum injection, technology of delivering through the skin by penetrating substances with high molecular weight into the skin.
Basic structure of cell permeation by macromolecular transport domain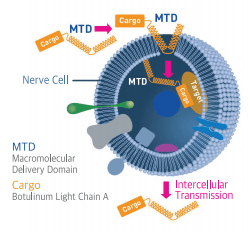 More secure, more certain
Intracellular penetration by MTD technology deals less damage to cell wall and shows very high transmittance compared to PTD method equivalent to nanoliposome, general peptide component with the ablilty to actively navigate target cells and an unique penetration capabilities
BIOPHARMACEUTICAL Analyzes EVERYTHING, provides KNOWLEDGE to the consumer.
What does a peptide mean and how important is it to its power from where it came from, and depending on how many together they become a peptide complex and significantly increases the treatment results. Click to find out all about your beauty.
Basic Ingredients

Core Patented Technology
Achievement of molecular weight of 50Kda by extracting only the core components of Botulinum
International patent PCT / KR2012 / 009997
Development of novel macromolecular delivery domain with improved cell permeability and its use
Effect
Wrinkle

It improves wrinkle such as eyes wrinkle, a nasolabial fold and neck wrinkles. (Botulium-dericative peptide)
Whitening

It brintens the dull skin. (alpha-bisabolol, etc)
Lifting & Elasticity

It gives elasticity to the sagging skin with the anti-aging effect of 12 complex peptides.
Calm

8 kinds of natural extracts such as enetipede extract, etc. calm the skin
How to Use
Put an appropriate amount on eyes, forehead, a nasolabial fold, etc. 1~2 times after cleansing
Do not rub the serum and spread it on the entire face gently.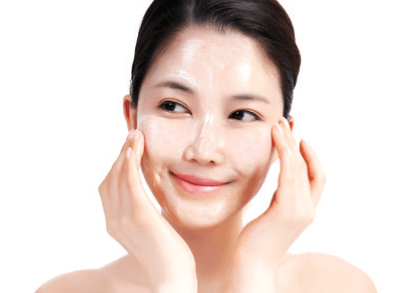 Wait for enough bubbles to occur so that the active ingredient of the serum may be activated.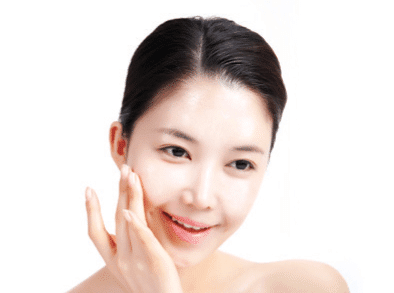 Tap it lightly to absorb so that the active ingredient can penetrate the skin
Safety and efficacy proven by clinical plastic surgery / dermatologist

Specialized clinical institution complete eye wrinkles, skin brightness and elasticity improvement efficacy test (P&K Skin Clinical Test Center)
Sales point Collaborators Health Store​
[wpsl template="default" map_type="roadmap" auto_locate="true" start_marker="red" store_marker="blue" category="%cf%86%ce%b1%cf%81%ce%bc%ce%b1%ce%ba%ce%b5%ce%af%ce%b1-%ce%b5%ce%bb%ce%bb%ce%ac%ce%b4%ce%b1″]